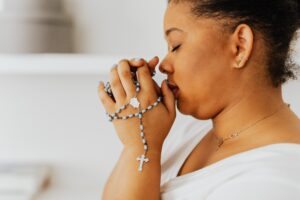 Faith is one of those words that we use all the time and is central to Christianity, but it is hard to describe what it actually means. If you are someone just finding Christianity, it can be difficult at first to wrap your head around the concept of faith, or how you can practice it in your life. 
As a Christian Keynote Speaker and Faith Leader, Bishop Tracie Dickey is a woman of God. She has a particular passion for guiding new believers and lukewarm Christians to their walks with God. In this effort, Dickey is the founder of two programs that connect people with the empowering encouragement of a relationship with the Lord – Jesus Loves the Children and Men On the Move.
So what does faith even mean? According to the Bible, "Now faith is confidence in what we hope for and assurance about what we do not see. This is what the ancients were commended for. By faith, we understand that the universe was formed at God's command so that what is seen was not made out of what was visible" (Hebrews 11:1-3). 
Faith is not merely following the teachings of the Bible due to obligation or duty, or even just believing that God exists. It is about having trust that the world around you is all a part of God's plan. Even when everything in your life seems out of control, it is about believing that it all serves a greater purpose and that God can offer you strength in these times. There is more to the world than you can see with your own eyes.