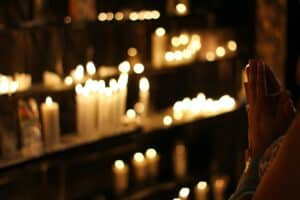 We all pick up wounds from the things we experience in life. Much like physical wounds, our spiritual and emotional wounds can be deep and take time to heal. Negative situations in our lives can lead to chronic stress and dissatisfaction in your life overall. If you are going through this, you can heal your wounds, and you don't have to go through this healing on your own.
As a faith leader and woman of God, Bishop Tracie Dickey is eager to offer sermons to anyone in need of a spiritual recharge. She is passionate about spreading her unwavering faith in God to those who need His spiritual guidance the most. Today she shares tips for how to start your spiritual healing journey.
Think of treating your spiritual wounds like you would treat physical wounds. You need to cleanse, protect, and check up on your wounds to ensure they are healed.
Forgiveness is the best cleansing agent for your wounds. You may not be able to forgive people, situations, or yourself overnight. Even if it takes time, forgiving the past is a great first step.
At any point on your healing journey, praying to God is so important. God has the ultimate power to heal, and asking Him for help is essential.
Take the focus off of yourself. Focusing only on the pain you feel will only cause you more pain. Finding ways to help and heal others will help you heal yourself.
Don't sit in the resentment you feel. No matter what has happened in your life, resentment only keeps us trapped in a cycle of pain.
Practice gratitude. Each day, write down a small list of 5-10 things you are grateful for, no matter how large or small these things are. This can really help shift your mindset to focus on the positive things.
Reach out to a spiritual advisor for help. If you go to church, go to your pastor, priest, reverend, etc, and ask for guidance on your situation.